Family Research Council Subpoenaed in Lawsuit Against Trump Over Transgender Military Ban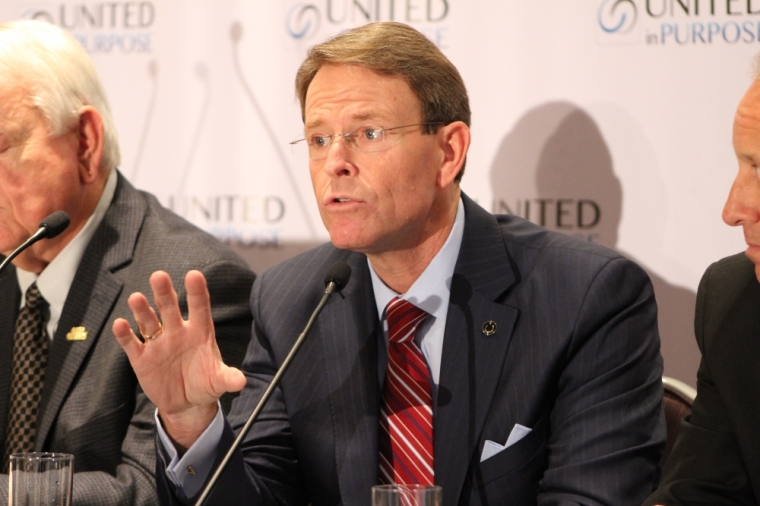 The Washington, DC-based conservative advocacy group the Family Research Council has been subpoenaed by LGBT groups suing the Trump administration over its transgender military service ban.
Since last year, President Donald Trump has been taking efforts to prohibit openly transgender individuals from serving in the United States military.
In an email sent out to supporters on Tuesday morning, the FRC explained that they were issued a subpoena demanding that they produce all communication on the issue between their leadership and the administration.
"We've had to hire a law firm to represent us in the case, and our lawyers have objected to this demand, asserting our First Amendment religious freedom and speech rights," explained the FRC email.
"The LGBT activist groups have now filed a motion seeking a court order compelling us to turn over the privileged documents."
FRC also stated that they believe the real intention of the subpoena is to "intimidate FRC and our supporters from standing up for our military service members."
"They also know that it takes significant time and resources to respond to subpoenas, scarce time and resources that we should be focusing on advancing faith, family, and freedom," continued the email.
Last year, President Trump signed a ban against transgender individuals serving in the armed forces, reversing an Obama-era proposal that had not yet taken effect due to concerns expressed by military leadership.
For their part, FRC President Tony Perkins organized a letter to the Trump administration signed by evangelical leaders, including Franklin Graham, asking for the president to rescind the previous administration's proposal.
In comments given to The Christian Post last summer, Johnnie Moore, an informal adviser to the administration, explained that the letter was not organized by Trump's board of evangelical advisers, but some of those advisers signed the letter. He also suggested that the FRC letter was not the deciding factor in the ban. 
"We don't know where the letter actually ended up or what the letter had to do, if at all, with the decision that was made," Moore said at the time. 
"We have no idea if it even made it to the president or if he read it ... From our perspective, we are fully taking the president at his word that the reason why this decision was made was because of questions related to military readiness and troop cohesion and these types of things."
Since then, the ban has undergone a legal challenge and was blocked by injunctions. District Judge Colleen Kollar-Kotelly ruled back in November that transgender recruits must be allowed to serve starting January 1, which fulfilled the directives of former President Barack Obama.
In March, Trump signed a new memorandum aimed at blocking some transgender people from military services, though this time it was only limited to "transgender persons who require or have undergone gender transition."
Trump's latest efforts sought to ban potential transgender troops with a history of gender dysphoria "except under certain limited circumstances."
The Department of Defense had warned in a report that allowing such individuals to serve would pose "substantial risks" and could "undermine readiness ... and impose an unreasonable burden on the military."
On Friday, U.S. District Judge Marsha Pechman of the Western District of Washington ruled against Trump's latest attempt to ban transgender troops from serving in the U.S. military, arguing that transgender people are a "protected class."