Greg Laurie Seeks Churches, Venues to Host 'Harvest America' Event
Evangelist Greg Laurie met with more than 200 Southern California pastors and ministry leaders Tuesday to outline plans for one of his Harvest Ministry's outreach events this year to be simulcast live at host churches and other venues throughout the nation for the first time in its 22-year history.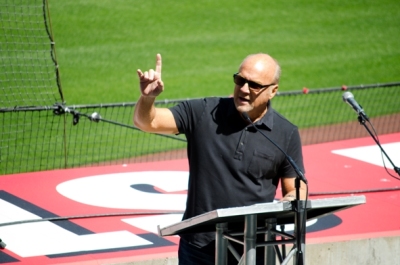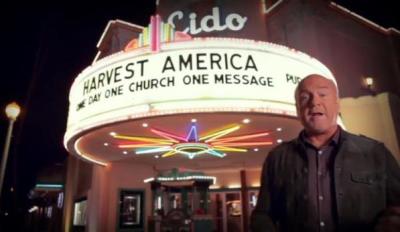 The meeting held at Angels Stadium in Anaheim was about taking the Harvest Crusades to the next level and explaining how "Harvest America" will do just that.
Founded by Laurie, the Harvest events are large-scale evangelistic outreaches primarily held at stadiums and arenas in the United States, Canada, Australia, and New Zealand.
Organizers say that starting in 1990 in Orange County, Calif., more than 4,405,000 people have attended a Harvest Crusades event in person, and more than 370,900 people have registered decisions of faith in Jesus Christ.
Laurie plans to capitalize on the fact that during last year's Harvest, individuals watched the live stream broadcast from every state of the union and 32 countries around the world.
"Now, with HD-quality video available through Internet streaming and satellite, people could fill churches, theaters, coffee houses, and living rooms, linking together as One Church in thousands of locations," Harvest organizers said.
The fact that Harvest America comes during an election year and difficult economic times did not go unnoticed by Laurie as he addressed the church leaders sitting inside the stadium where the event will be held on August 26.
"We know the solution for America is not a political one. It is a spiritual one. We know we need an awakening – a revival," Laurie prayed at the beginning of his presentation. "We pray Lord that the revival, if you would be so gracious, start right here. There is some 300 churches represented (at the meeting), but in reality we are all part of the Church, your Church, the Church that you love, the Church that you gave your life for."
Laurie said that over the past few years his Harvest team has noticed that the Internet audience exceeds the live audience at the events.
"Instead of having everyone just eavesdrop on our event, or watch it virtually, we are doing a coordinated effort around the country that we are calling 'Harvest America,' he explained. "We are going to do our event as we always do here (at Angels Stadium), but this is going to go around the nation.
"We have a number of very large churches that are participating. They may have a live service. They may have live worship and maybe a particular (Christian worship music) artist. Then, they will get a livestream of the message coming in," he continued. "The point is that at these churches they are treating it as though we were coming to their community and holding a crusade."
Laurie said that he and Harvest organizers believe they can see a similar response as they have seen in person at Angel Stadium and other venues for 22 years – one in which thousands of people make commitments to Jesus Christ.
The Harvest Ministry team plans to repeat the Harvest America format over the next three years. During this time period, they could conservatively see more than five million people in live-stream events and effectively see some 500,000 professions of faith. The ministry's estimates convert to higher numbers than seen in the Harvest Crusades' 22-year history, organizers said.
Laurie told the gathering Tuesday that he is not worried about achieving the projected numbers or even failing all together.
"I've been given my marching orders just like you, which is to go and preach the Gospel," he said. "We are going to try to reach as many people as we can, as effectively as we can, using every form of media that we can because we believe these are desperate times in which we are living.
"Our desire is to build up the Church, our church, the Lord's Church, your church," he concluded. "If we can expand our thinking for a moment and not make it about our churches growing numerically, but let's work together so we can see the Church grow numerically. Let's work together so we can see the Kingdom of God extended."
On the Web: http://harvestamerica.com/