Hailey Bieber, celebrities urge social media platforms to censor anti-LGBT content as 'hate speech'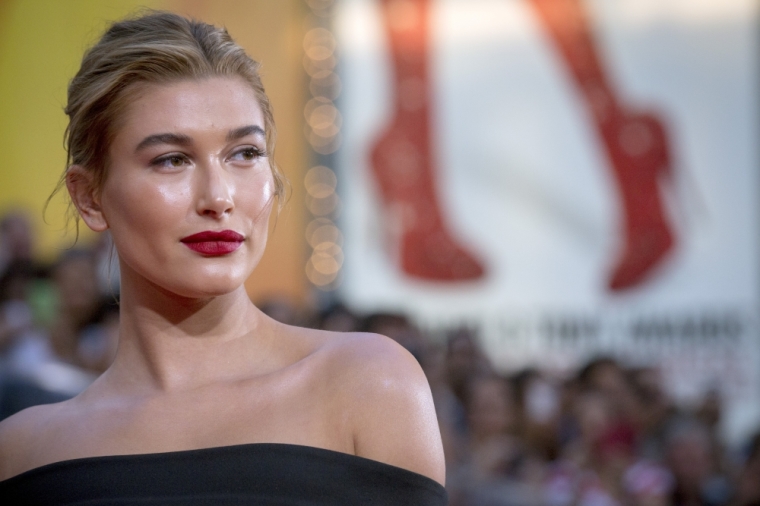 Christian model Hailey Baldwin Bieber has joined the likes of trans advocate LaVerne Cox and nonbinary artist Sam Smith in endorsing a public letter calling for Instagram, YouTube and other social media platforms to ban LGBT "hate, harassment and disinformation."
In the letter shared by LGBT activist group GLAAD and addressed to the Meta head Mark Zuckerberg, YouTube/Alphabet's Neal Mohan, TikTok's Shou Zi Chew and Twitter's Linda Yaccarino and Twitter's Elon Musk, more than 250 "celebrities, influencers, and prominent public figures with significant followings on social media" warn of a "massive systemic failure" involving the social media giants.
Other well-known entertainers and influencers who endorsed the letter are Ariana Grande, Judd Apatow, Elliot Page, Alyssa Milano, Shawn Mendes, Camila Cabello and Gabrielle Union-Wade. 
"There has been a massive systemic failure to prohibit hate, harassment, and malicious anti-[LGBT] disinformation on your platforms and it must be addressed," the letter stated. "The very content you profit from is in violation of your own terms of service, which assert that you do not allow hate speech."
Such content, the letter asserts, includes both "dangerous" content and ads from "high-follower hate-based accounts" and any speech that "spreads malicious lies and disinformation about medically necessary healthcare for transgender youth."
Claiming that medical operations for trans-identified people have been endorsed by "every leading" medical and psychological association, the letter states, "inflammatory disinformation falsely asserting that this healthcare is dangerous is allowed to fester on your platforms because it drives clicks and profit."
The letter links such speech to bomb threats against children's hospitals that offer gender interventions and death threats against specific providers despite citations that provide no direct connection between the two.
For example, the letter cites a Vice article on "far-right extremists," which acknowledges that the targeted "hospital did not specify where the threats were coming from."
Other citations include a Daily Beast article that states "misgendering is violence" and a Human Rights Campaign report that links "religious intolerance" with misinformation.
The letter also categorizes any speech that opposes LGBT values as "extremist hate," again linking to a Vice video to highlight the Libs of TikTok channel, which has over 2.3 million followers on Twitter.
An example of such "hate," according to the letter, is the "grooming/groomer" label, which the letter calls a "conspiracy theory."
Notably, the GLAAD letter calls out what it described as "dehumanizing, hateful attacks on prominent transgender public figures and influencers" in a likely reference to the Bud Light advertising campaign involving trans-identified influencer Dylan Mulvaney.
The campaign resulted in a boycott and a steep drop in sales for Bud Light and led to at least two executives taking leave of the company.
"Directing hate against [LGBT] public figures is a common vehicle for expressing general anti-[LGBT] bigotry," the letter stated. "When companies maintain policy loopholes that allow such hate against public figures, this perpetuates harm against entire communities."
Lastly, the letter urged social media companies to crack down on what it called "anti-transgender hate speech," which includes "misgendering" and "deadnaming," which involves using biologically accurate pronouns or birth names of trans-identified persons.
Twitter banned the practice in 2018 before rolling back that policy earlier this year. TikTok and Meta, meanwhile, have various forms of prohibitions on both practices.
While calling on social media companies to address these concerns, the letter also appeared to ask that the LGBT community not be held to the same standard for fear of "over-enforcement and censorship."
"Your policies and corresponding enforcement are inadequate when it comes to mitigating harmful and dangerous anti-[LGBT] content," the letter stated. "You must urgently take action to protect trans and [LGBT] users on your platforms (including protecting us from over-enforcement and censorship)."
Acknowledging a number of other left-leaning activist groups like GLAAD, Human Rights Campaign, The Trevor Project, and others, the letter stated the social media companies' "mitigations remain woefully inadequate."
"True allies do not profit from anti-[LGBT] hate," the letter states. 
Both Justin and Hailey Bieber, who have been married since 2018, identify as Christians. They were seen regularly attending Hillsong Church together at one point in 2016. Following the fall from grace of Hillsong NYC Pastor Carl Lentz, Justin Bieber clarified he is a member of Churchome led by Judah Smith, who officiated their wedding and baptized the couple in 2020.
The Christian Post reached out to GLAAD for comment, but there was no response as of Friday afternoon. This story will be updated in the event a response is received.