James Robison Says God Is Speaking Through Hurricanes Harvey and Irma, Implores Christians to Pray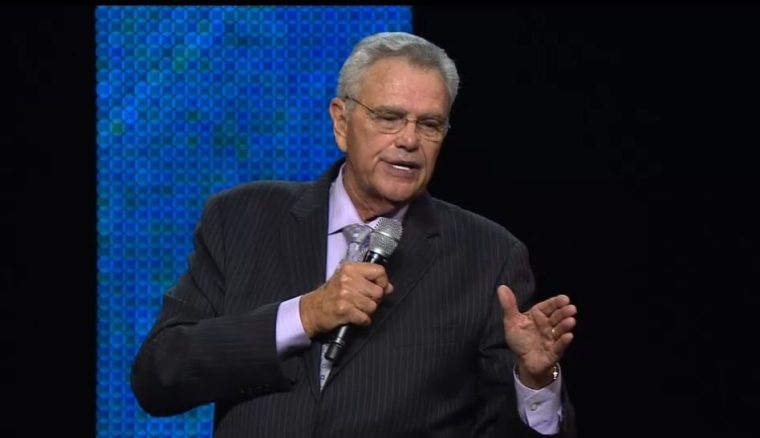 Evangelist James Robison believes that God is speaking through the recent and upcoming storms, and is making passionate pleas for Christians to pray. The crises that Americans have faced and are facing will only be resolved if we come together "like a family," he said.
In a Facebook video posted Wednesday, the 73-year-old co-founder of LIFE Outreach International and host of LIFE Today offered his spiritual perspective on what is happening with the hurricanes, the Trump administration's recent moves on immigration policy and the rumblings in North Korea.
"When you look at the aftermath of Harvey, which could prove to be one of the most disastrous natural disasters in American history," Robison said of how God was speaking through the storm, "when you look at the love, compassion, courage, personal sacrifice, and dedication, you're actually seeing an undeniable demonstration of what it looks like to love your neighbor, with a Good Samaritan love."
"You're seeing the American family function like a healthy family."
He noted that Irma, a category 5 hurricane currently besieging the Caribbean and that has destroyed 90 percent of the structures on the island of Barbuda, could well be the most devastating storm ever in terms of wind velocity. Reports indicate that Irma's winds have reached speeds of 185 miles per hour.
Robison also made a point to defend President's Trump's recent move to rescind DACA, an Obama executive order which temporarily protected immigrants who were brought to the United States illegally when they were children. He expressed frustration that people are calling the president all kinds of names because of this decision, particularly when Obama acknowledged that his action was outside his prescribed constitutional authority. Trump has said that Congress should take charge of the issue and stated on Twitter Thursday that those young people affected by the DACA rescind have nothing to worry about during the next six months as there would be no action. 
"When are we going to stop the nonsense? When are the American people going say 'Enough is enough'" and come together to reason like a family, Robison said.
"I believe that [Trump] could walk on water, raise the dead, heal the blind, heal the sick, perform miracle after miracle, and he would still be hated by today's liberal media. He would be accused, if we have 150 million people praising him for what he did because it was positive, the media would find two people to criticize him and that would be headlines."
Such is the manner in which we treat any politician or leader with which we disagree, he continued to say, noting that church leaders will be criticized for praying for someone even though Christians are commanded in 1 Timothy 2:2 to pray for all in authority.
Robison has met with and advised governmental leaders since 1980.
"I'm going to continue to share the truth. Period," he said, decrying how the mass media keeps stirring hate and discord.
He returned to speaking about the hurricanes and reiterated that the only way we are going survive the devastation is by coming together.
But as bad as the natural disasters are, if North Korean dictator Kim Jong Un has his way and launches a thermonuclear attack on America or its allies, "nothing these hurricanes have unleashed on us will compare with the devastation and the horror of what happens," Robison said.
If that occurs, "we will have to be one another's neighbor again in the midst of that crisis to try and climb out from under the ashes," he said.
"I'm telling you that God wants to give us His wisdom, His guidance, His direction [regarding] how to deal with this enemy."
He implored Christians to pray and asserted that it is "not beyond reason" to believe that the North Koreans could rise up and dethrone their dictator.
"We could pray that he would have a miracle transformation," he added.
"But many times, the government, the one in authority, has to bear the sword, to punish evildoers, and to deal with it."
Lives will undoubtedly will be lost, he said, but what we must have in order to guard our freedom, safety, families, and future, "is the divine direction that God freely offers."
"And we have never needed it more."