Mother Praises God After Baby Shot at Church Carnival Survives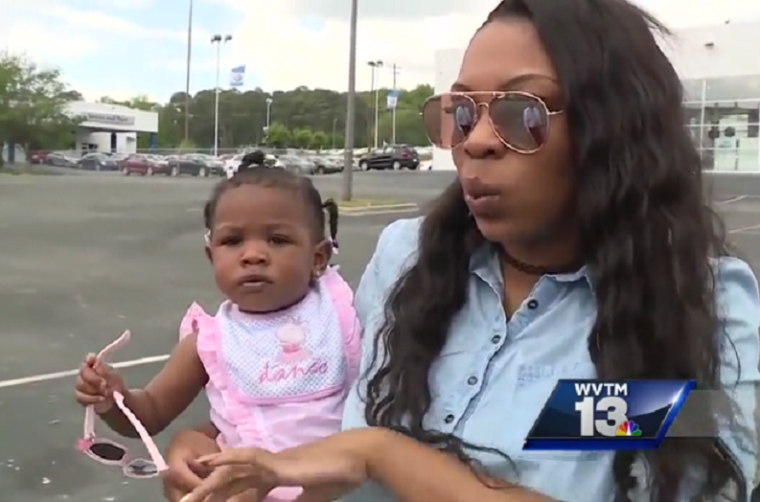 A young mother is now praising God after her 11-month-old daughter survived being shot along with five others after a fight broke out between teenagers at a church carnival in Birmingham, Alabama.
Danetris Caves told WVTM 13 that she was celebrating her daughter Karleigh's first Easter by attending the spring carnival hosted by the Cathedral of the Cross Church of God when gunfire erupted in the crowd of about 900 people.
The Jefferson County Sheriff's Office says a group of teens at the carnival being held in the church's parking lot began arguing and then fighting. During the fight, one of the teens pulled a gun and began firing as he ran away.
Caves said a bullet struck her young daughter a few feet from where she was standing at the time but no one realized her daughter had been shot.
"They really didn't know she was shot or grazed or whatever, but they know a bullet came her way where her stroller was and the stroller was flipped over," said Caves.
Once they realized Karleigh had been shot in the foot she was rushed to a local hospital where the bullet was removed without surgery.
"It is our first time coming out to a fair. You know, her first Easter, first birthday all in just two weeks and this happens? Just keep praising God because He's the reason that she's still here," Caves told WVTM.
The Sheriff's Office says six people including baby Karleigh were shot at the fair. None of their injuries, however, were life-threatening. The five other shooting victims were teenagers ranging in ages from 16 to 18. A pregnant woman was also injured and taken to a hospital after she was knocked to the ground by people running from gunfire, according to WVTM.
Bishop Phillip Wright, pastor of Cathedral of the Cross, condemned the shooting at his church and questioned why anyone would shoot a gun at a family event being held in a church parking lot.
"I am so grateful that none of these victims have life threatening injuries. I am very sorry with God as my witness that they had to experience this. But I am thankful that they didn't lose their life," Wright said in a WIAT report.
Cathedral of the Cross choir member Brenda Betsey called the incident awful.
"It's sad and it's awful when you can't even go to a carnival to enjoy yourself without being hurt," she said.
Bishop Wright noted that he is praying for all the victims and had a message for the gunman who has been identified but remains on the run: "There is a better life than the life you've chosen, the life you've chosen only leads down. You cannot rise with that type of activity in your life."