Police Investigate Stabbing of Bible Inside Nebraska Church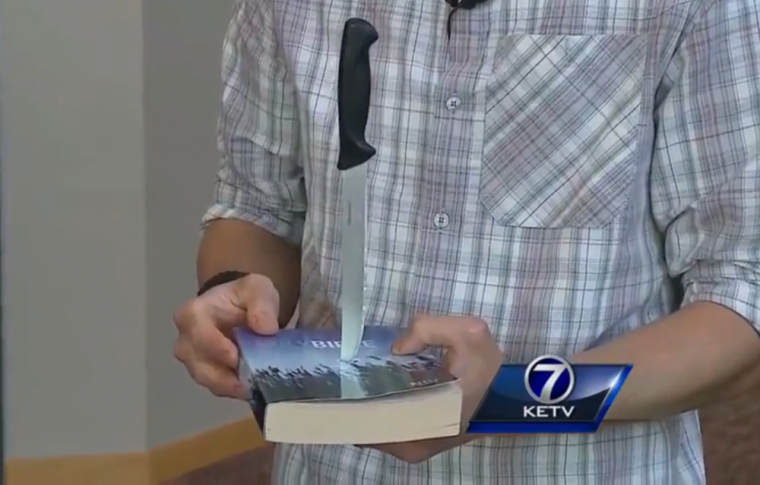 Just two weeks after residents in Omaha, Nebraska, reported a 1-and-a-half years mystery of meat-wrapped knives found stabbed into trees, police are now investigating the stabbing of a Bible inside a church in Lincoln.
Rev. Mic Henton who runs the youth ministry at the College View Seventh-day Adventist Church in Lincoln, told local news station KETV that he isn't sure if the knifed Bible is a chilling warning from evil forces but wants whoever has been taunting the ministry with a number of symbolic acts of evil in recent weeks to know that "Jesus still died for them."
Henton said the first instance of trouble he saw before the stabbing was the cutting of the cable for the microphone used in the ministry.
"I realized that as I picked up the mic that the mic cable had been cut," he said. "A few days later, a part of a drum set got stolen then a pentagram appeared carved into the wall outside the church's youth room.
Finally, he told KETV, church staff found a Bible with the church's kitchen knife plunged through the cover inside the prayer chapel and that forced them to call police.
Henton said he was shocked that someone would stab the Good Book for no reason.
"I don't know why you would carve a pentagram into the wall, why you would stab a Bible without hate being there, but I don't know if you would necessarily label it a hate crime," Henton said.
Henton wants whoever has been defiling the church with these evil acts to know they can be saved.
"I want them to know that I care about them," Henton said. "It doesn't change how I feel about them. I love them and God loves them. Jesus still died for them and they can be saved from whatever place that they're in."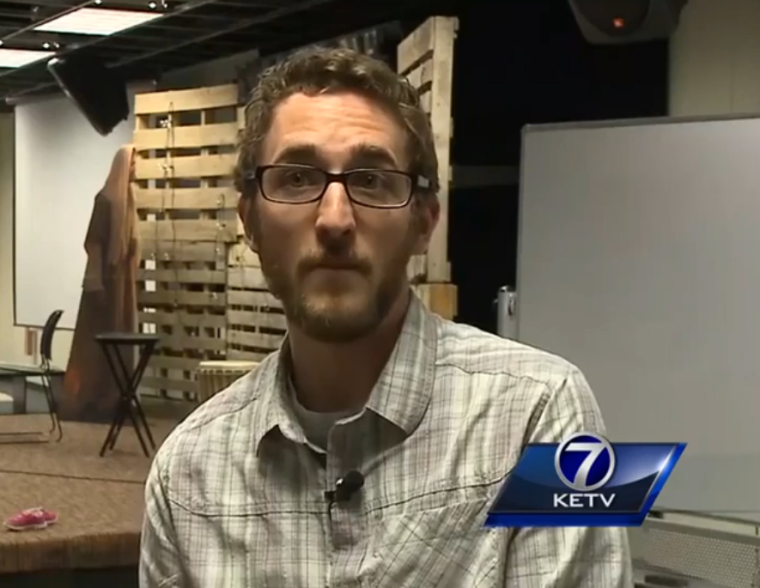 A dispatch operator with the Lincoln Police Department told The Christian Post Thursday, "they have a report and are investigating it" but there are no leads.
The operator said despite having access to the police report, he could not say what time the call about the stabbed Bible came in or release any further details as it is policy not to give out information on cases.
The officer responsible for the case, he said, would not be back at work until Saturday at 2:30 p.m.
Just two weeks ago KETV reported knives wrapped in meat, butcher paper and duct tape, being left stuck in trees in Leavenworth Park in Omaha.
"I think it's really strange," resident Franchesca Nunez said. "I don't really know what to think about it. I just think it's really weird."
Omaha police removed the knives and said they are investigating. John Costanzo with the Leavenworth Neighborhood Association told KETV that the strange tree stabbings had been going on for more than a year.
"Probably for about the last year, year and a half, neighbors have been finding steaks or other various pieces of meat pinned to the tree with knives," said Costanzo.
Despite the police investigation the meat-wrapped knives have also remained a mystery.
"It just doesn't sound right. I mean it sounds pretty scary," resident Frank Huss said.
While police have confirmed the meat is not human, Costanzo said the mystery of who was sticking the knives in the trees and leaving them in the open for kids was concerning for him.
"It is concerning though, I mean, this is right along the trail that kids use and having knives readily accessible where kids could pick them up is definitely a hazard," Costanzo said.