Pope Francis Acknowledges Assassination Threat, Prays for Any Attempt to Not Hurt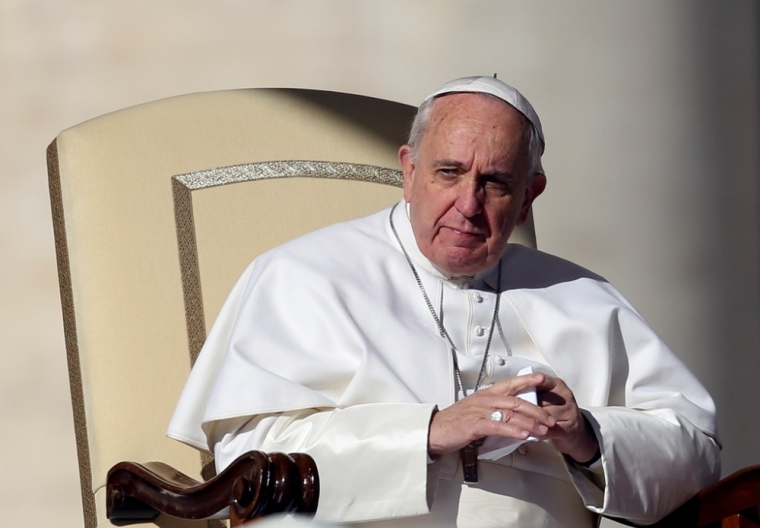 Pope Francis addressed concerns that he may be assassinated on Tuesday by members of ISIS or other organizations making threats against him.
"Life is in God's hands," Francis said in an interview with La Carcova News. "But if it is your will that I die or something happens to me, I ask you only one favor: that it doesn't hurt. Because I am a real wimp when it comes to physical pain."
Francis is no stranger to being threatened by radical groups such as ISIS that call him the "bearer of false truth." The rumor of a potential bomb threat was testified to by former Special Action Force commander Getulio Napenas. The bomb was reportedly set by the Jemaah Islamiya, a Southeast Asian Jihadist organization, but the Vatican denied such an accusation.
He is much more liberal than previous pontiffs, making him an especially susceptible target for organizations. Francis has stated progressive views on homosexuality, including his famous question to reporters: "If someone is gay and he searches for the Lord and has good will, who am I to judge?"
While in Buenos Aires, Francis also addressed real concerns facing a younger generation growing up on the Internet. Even though he himself has a Twitter account, a first for the pontiff, Francis warned against too much virtual interaction and not enough actual interaction.
"We have a great capacity to gather information, and this can turn young people into 'museums'—into collectors of images and data that dull and weaken their ability to be critical. In real life, fertility does not just come from the accumulation of information or simply through virtual communication. Virtual love does not exist," Francis said. "The declaration of virtual love exists, but real love requires physical, concrete contact."
Francis also revealed that he will be visiting Argentina in 2016, which is where he is from. He will next be giving a speech on climate change, which Cardinal Peter Turkson said is in line with Christian duty to "care for God's ongoing work of creation."