Prince Charles: persecuted Christians proof true faith can resist 'even the most brutal efforts to extinguish it'
Prince Charles: persecuted Christians proof true faith can resist 'even the most brutal efforts to extinguish it'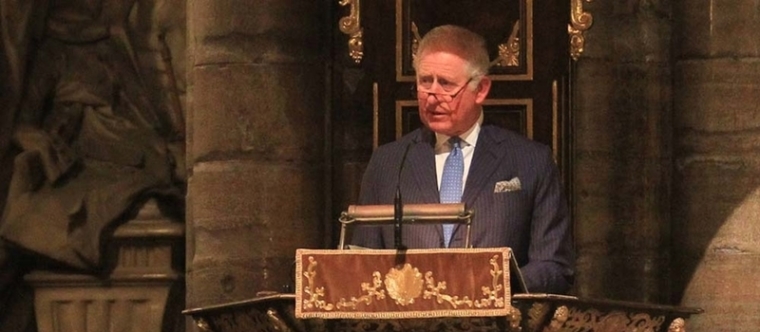 Prince Charles recently reflected on the "truly remarkable faith" of Christians in the Middle East and said their plight demonstrates the "extraordinary power of faith to resist even the most brutal efforts to extinguish it."
During a special service at Westminster Abbey on Tuesday, the Prince of Wales said that in recent years, he's met a number of Christians who are battling oppression and persecution with "such inspiring faith and courage."
"Time and again I have been deeply humbled and profoundly moved by the extraordinary grace and capacity for forgiveness that I have seen in those who have suffered so much," he said.
Charles said that while it's one thing to believe in God who forgives; it is "quite another" to take that example to heart and actually whole-heartedly forgive "those who trespass against you."
"So, in coming together today, we can only give thanks for the truly remarkable strength of the faith with which so many Christians face persecution, and which gives them the courage and the determination to endure, and to overcome," he said.
The prince shared that earlier this year, he met with a Dominican Sister from Nineveh who, in 2014, as ISIS extremists advanced on the town of Qaraqosh, got behind the wheel of a minibus crammed full of her fellow Christians, and drove the long and dangerous road to safety.
"Like the 100,000 other Christians who were forced from the Nineveh Plains by Daesh that year, they left behind the ruins of their homes and churches, and the shattered remnants of their communities," he said.
While devastated by her return to Ninevah three years later, the nun and her sisters put their faith in God, Charles said.
"Churches, schools, orphanages, and businesses are rising from the rubble, and the fabric of that society, which had been so cruelly torn apart, is being gradually repaired," he said, adding that nearly half of those displaced have gone back to rebuild their homes and their communities.
"This is the most wonderful testament to the resilience of humanity, and to the extraordinary power of faith to resist even the most brutal efforts to extinguish it," Charles declared.
The prince encouraged Jews, Muslims, and Christians to peacefully co-exist despite their differing beliefs, adding that history shows it's possible to do so.
"Extremism and division are by no means inevitable," he said.
He concluded by reminding attendees that Jesus Himself knew exile, injustice, and suffering, adding: "I can only assure you of our steadfast support and most heartfelt prayers as you take forward your works of restoration, justice and healing, so that God's will might be done on Earth as it is in Heaven."
The service at Westminster Abbey was also attended by Justin Welby, the archbishop of Canterbury, previously who warned that Christians in the Middle East are nearing extinction due to ongoing persecution.
"To live in a country, or a society where a government, or an armed group, or even a minority of people, consider that you should be consigned to oblivion because of your faith in Christ is an experience without parallel," he said during the service.
In Iraq, the number of Christians is below 200,000, down from 1.4 million in 2002 and 500,000 in 2013, before ISIS militants destroyed much of the region, according to reports.
Many of the remaining Christians in Iraq are displaced, mostly in Irbil in the Kurdistan region, and need assistance to return to their homes and stay in Iraq.