Trump vs. Biden on 3 key issues important to Christian voters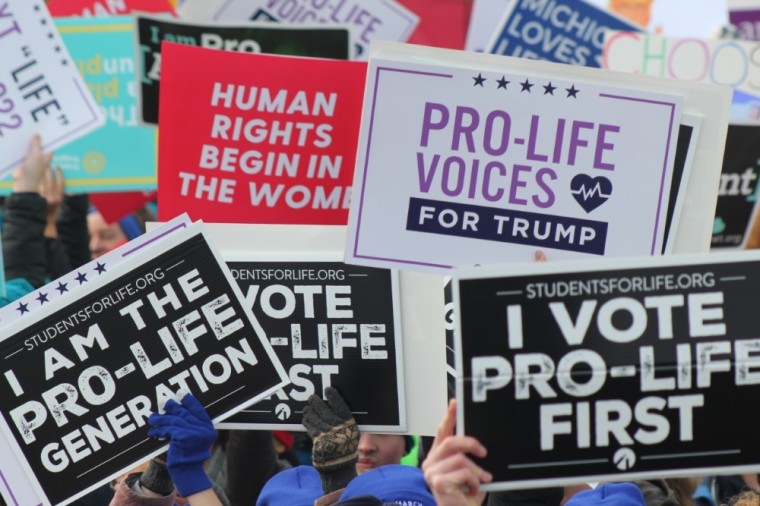 Abortion
The Trump administration has been called the "most pro-life administration" by many national advocacy groups for his actions in defending life at every stage.
In January, Trump became the first president in U.S. history to ever attend the March for Life in person. Similarly, Mike Pence was the first vice president to attend the annual march in 2017.
During the first two years of the Trump administration, three separate legislative attempts were made to defund Planned Parenthood and all other abortion providers, as well as ending Obamacare's funding of abortion. 
These attempts were in the form of two healthcare bills and one repeal: An attempt to repeal one part of Obamacare to end taxpayer funding of abortion providers; reversing former President Barack Obama's regulation permanently banning states from withdrawing funding to Planned Parenthood; and the Pain-Capable Unborn Child Protection Act. All three passed in the formerly Republican-controlled House but only one passed in the Senate in 2017.  
At the time, Republican Sens. John McCain, Lisa Murkowski and Susan Collins all voted against ending Obamacare's funding of abortion, and the repeal failed. Collins and Murkowski also voted against allowing states to prohibit family planning funds from going to abortion providers. With a 50-50 split in the Senate on that vote, Vice President Mike Pence broke the tie in his role as president of the Senate, providing a victory to the Trump administration.
The Pain-Capable Unborn Child Protection Act, which passed in the House in 2017, has yet to be voted on in the Senate where that version of the bill is authored by Sen. Lindsey Graham, R-S.C., who is up for re-election. 
In January 2017, Trump also reinstituted the Mexico City Policy, which prohibits the funding of abortion providers by foreign nongovernmental organizations. He proposed an expansion of that policy last month. 
Originally, the policy only applied to family planning organizations, but under Trump's proposed expansion the policy would also apply to all global health organizations that receive federal funding. The policy is seen as a ping pong issue between administrations. The policy was enacted by President Ronald Regan, rescinded by President Bill Clinton, re-instituted by President George W. Bush, rescinded by President Barack Obama, and re-instituted with a proposed expansion by Trump.
The Trump administration also attempted to codify the Hyde Amendment, which prohibits taxpayer funding of abortions outside of circumstances of rape, incest, or a medical emergency. 
Also under Trump, Planned Parenthood, which receives $500 million in taxpayer dollars annually, opted to forgo $60 million in federal funding after Trump said that Title X family planning funds would no longer go to abortion providers or clinics that refer patients for abortion. Instead of dividing its business to separate abortion from its other services, Planned Parenthood decided to opt-out of the program and close some of its clinics that don't perform abortions. 
Like many Catholic Democrats, Biden has faced the struggle of balancing his political views with the Catholic Church's teachings against abortion. 
In 2012 he said: "My religion defines who I am. And I've been a practicing Catholic my whole life. And it has particularly informed my social doctrine. … With regard to abortion, I accept my church's position that life begins at conception. That's the church's judgment. I accept it in my personal life. But I refuse to impose it on equally devout Christians and Muslims and Jews. I just refuse to impose that on others."
Biden also said at the time that he does not believe "we have a right to tell other people that women can't control their body." 
While he has received some criticism in the past for being more moderate on the issue than other Democrats, he's grown more progressive on abortion in recent years.
During the Democratic Party presidential primaries, his views on abortion were labeled "inconsistent" by some abortion-rights proponents.
For example, for many years Biden has been in favor of the Hyde Amendment, which bans tax dollars from being used to pay for or promote abortion. Last June, an aide to Biden even confirmed that the former vice president maintains his support for the Hyde Amendment. But days later, it was reported that he had reversed his support for the Hyde Amendment on grounds that some states are enacting laws to place gestational limits on abortion.
He later clarified his remarks, saying he would still support the Hyde Amendment if women of all incomes are allowed to access abortion. He denied claims that he changed his stance out of political expediency.
Biden's running mate, Sen. Kamala Harris, has said she believes that the Hyde Amendment should be repealed, arguing that it hampers poor women's ability to obtain abortions.
During a July 2019 debate, Kamala challenged her then-contender (Biden) on his inconsistency with the Hyde Amendment, saying: "Only since you've been running for president this time, you said that you in some way would take that back or you didn't agree with that decision you made over many, many years and this directly impacted so many women in our country."
On the issue of Roe v. Wade, During an NBC town hall on Oct. 5, Biden promised a questioner that if elected president, he will work to pass legislation codifying the right to abortion if the U.S. Supreme Court were to ever overturn Roe. "The only responsible response to that would be to pass legislation making Roe the law of the land. That's what I would do."
Additionally, Biden has said he will reverse the Mexico City Policy and Trump's expansion of the policy.
Biden's position on abortion has drastically changed since the 1973 Supreme Court decision. At the time, the then-senator said the court went "too far." A year later, Biden  said a woman shouldn't have the "sole right to say what should happen to her body." He also consistently voted against allowing federal employees' health insurance to cover abortions.  
Melissa Barnhart contributed to this report