Utah Now 19th State to Include 'In God We Trust' on License Plates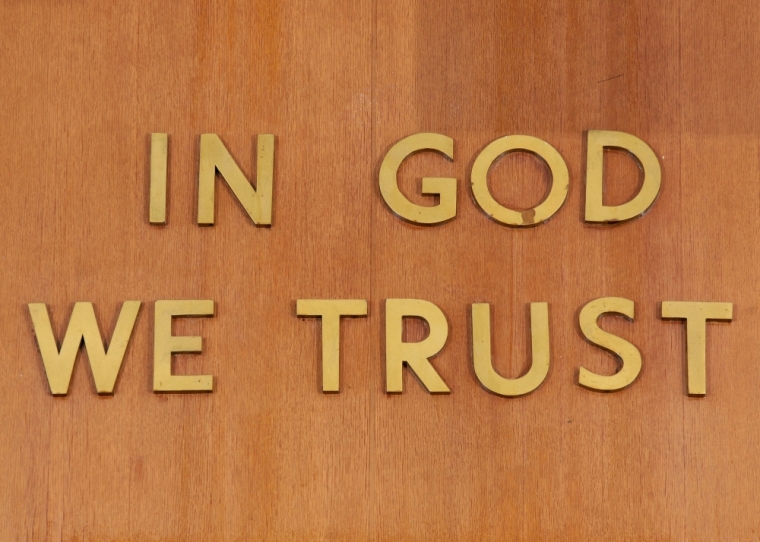 Utah is now the 19th state to include the national motto "In God We Trust" on standard-option license plates.
The state's Republican Gov. Gary Herbert signed into law House Bill 127, which removes an additional fee that came with acquiring a license plate with the national motto and will take effect at the beginning of next year.
In a statement made Monday at the signing of HB 127, Herbert said his decision to sign the bill had an added significance because of modern concerns over religious freedom.
"John Adams said our Constitution was made for only a religious and moral people," stated Herbert before those attending the signing.
"Our nation's motto bears extra importance at a time when free worship of God and religious rights are being challenged."
HB 127 was chiefly sponsored by Republican House member Val L. Peterson and was introduced in January.
The bill had broad support in the legislature, as the House passed it in February with a vote of 68-4 with three not voting, and the Senate passed it in a vote of 25-0 with 4 not voting.
With the governor's signature "In God We Trust" will become the third standardized plate in Utah, the other two being an image of the Delicate Arch and a skier.
"The Legislature passed three other bills this year creating more specialty license plates — requiring an extra $25 fee that goes to charities — but Herbert has not yet signed them," reported the Salt Lake Tribune Monday evening.
"Those specialty plates honor the Real Salt Lake soccer team, children with cancer and the Utah Law Enforcement Memorial."
In recent years the national motto "In God We Trust" has garnered criticism from secularist groups that believe it is an unconstitutional government endorsement of religion.
In January, atheist activist Michael Newdow filed the latest lawsuit against the motto, which totaled 112 pages and listed 41 plaintiffs.
"The 'In G-d We Trust' phrase has continued to be a tool used to perpetuate favoritism for (Christian) Monotheism," argued the suit.
Despite the legal threats, many local governments have recently passed measures displaying signs with "In God We Trust."
Utah's decision about the standardized plates comes days after a Texas city voted to display a plaque with the motto in its new city hall building.
North Richland Hills City Council voted 4-1 to include the plaque, with the national motto expected to be displayed at a "prominent location."