World Vision Introduces Unconventional Gift Catalogue to New York City for the Holidays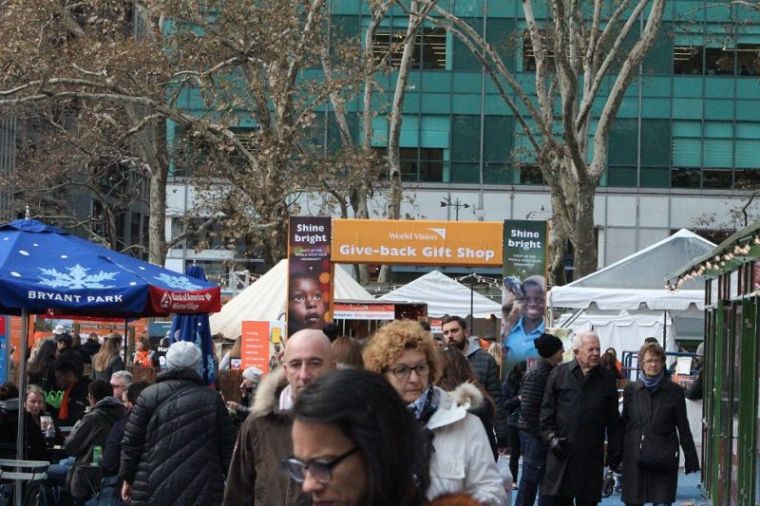 NEW YORK — While many of the holiday shops in Bryant Park's Winter Village in New York City boasted conventional gifts like art and jewelry on Tuesday, only one, global Christian humanitarian organization World Vision, offered to deliver goats, sheep, cows and donkeys to needy people all over the developing world.
The organization for the first time this week, brought their holiday gift catalogue to life with an interactive pop-up shop at the park to demonstrate to New York City's cosmopolitan crowd how they could give different types of gifts this year like helping families in the developing world get better access to clean water or empower them economically with the purchase of a goat or some chickens or even commit to sponsoring a child.
They also featured various ways to gift help to Americans in places like Puerto Rico, Texas and the U.S. Virgin Islands which were hit by major hurricanes this year.
"New York City is the capital of the world. In the two days we have been here we have come in contact with people from all over the world and Bryant Park is a great place to have this conversation because it's a very central cost effective way to reach a lot of people," Wendy Pinero-DePencier, vice president of brand and communications at World Vision said.
At 8:30 p.m. on Wednesday night, World Vision is expected to wrap up their interactive pop-up shop in the park after a three-day run and some people who had never heard of the organization before said the idea has given them a different perspective on giving.
"I think a lot of people are tactile learners and this is a way of getting them to understand something that they might not," said Jen Nista from Brooklyn who had come to the store with friend, Marlon Davis, to learn about the work of World Vision.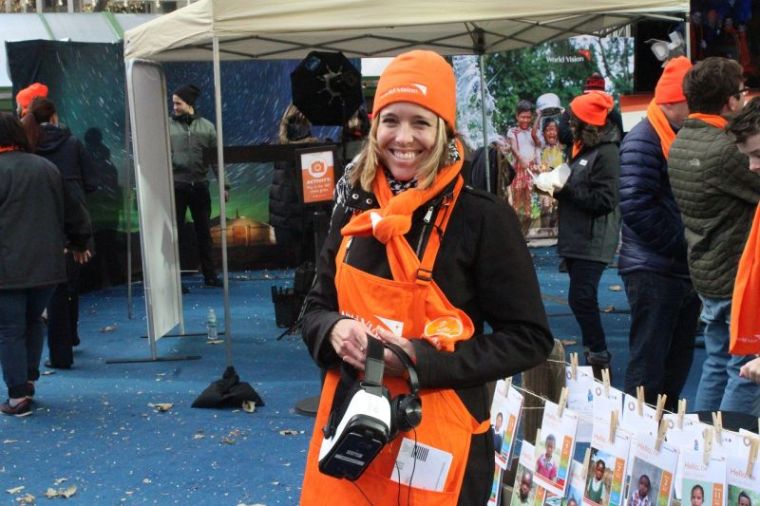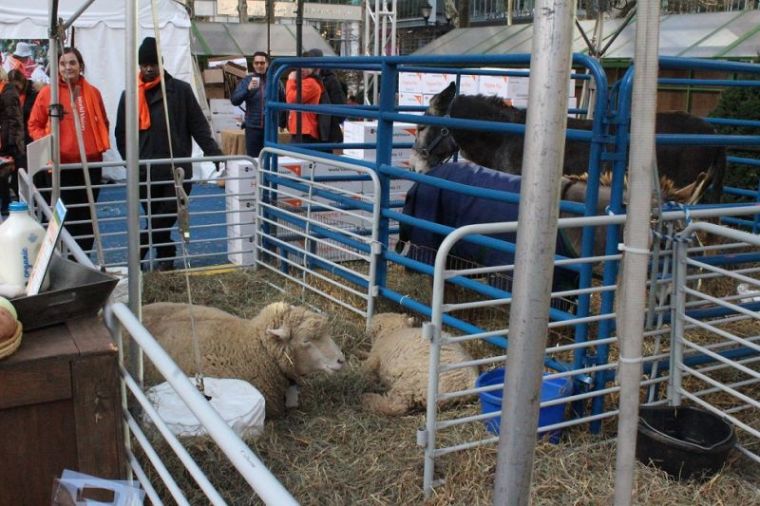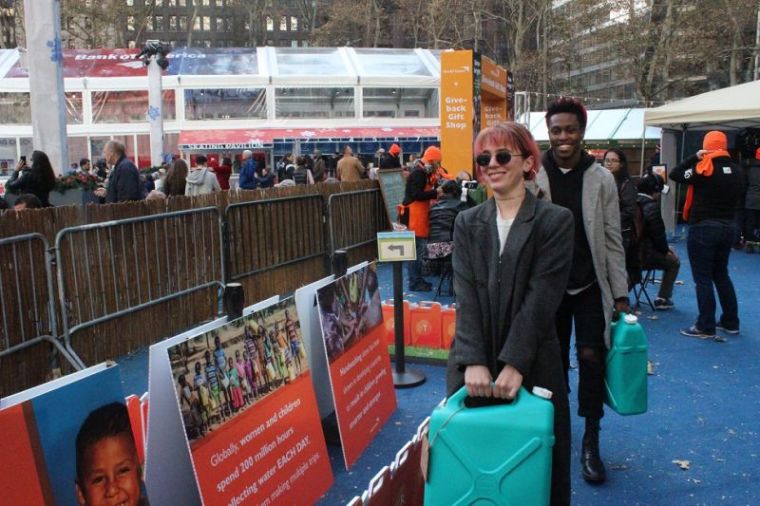 View Photos
They both took part in the shop's water walk activity which was designed to give people a taste of what it's like for a child who walks hours a day to collect water in the developing world. Another station in the shop allowed participants to virtually walk with a 5-year-old girl from Kenya named Cheru to fetch water.
"How do you give back to others?" asked DePencier. "If World Vision had a brick and mortar store, it would look like this. It has an example of all the ministries that we do and it's an opportunity to give something on behalf of somebody else ... this is a positive invitation for everybody to consider as they go about their holiday shopping. Something you can put on your list that actually helps somebody else across the world."
Davis who had just begun to explore World Vision's Give Back Gift Shop when he spoke with The Christian Post said he had never heard of World Vision before visiting the store. He explained that he normally gives to charities and would be taking a closer look at the global charity as he considers what to give this season.
Dana Hadigian, a business woman and Christian who traveled from Maryland to volunteer for World Vision said she currently sponsors six children through the organization and praised them for their non-exclusionary policy.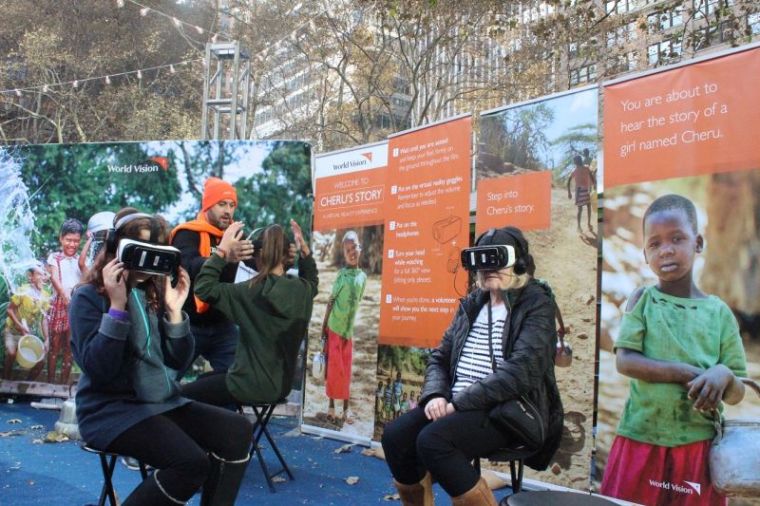 "We will work in any country, even countries that will not let us preach the gospel. We're not exclusionary even though we deeply believe in Christ. If we can preach it we will but if we can't, then we give them God's love," Hadigian said from her post inside a Mongolian Ger which people can also sponsor.
"A lot of these items are things they don't realize like the malaria blanket, and things like that, that malaria can be eradicated. That these things actually work," she explained of the various gifts from the catalogue.
Suzanne Arrison, a teacher and child ambassador volunteer with World Vision from McClean, Virginia, said she currently sponsors five children spread across Myanmar, Brazil and Ghana.
"It's been fun to watch them grow," she said.
"I have three boys and had been wanting to show them how to help children around the world. And they've actually been able to grow up with these kids," Arrison added.
"They write us letters and we write them back and I even had the mom write us from Brazil. When I used to teach first grade or second grade my class wrote letters and the mom wrote me back ... it's been a big part of my life as a mother and a person to make a difference in the world," she further explained.
Commenting on how the day had been for Giving Tuesday, Arrison said: "It's days like this that I wish they would last forever because I love making a difference. I wish I could do it every day. It's great talking to people from around the country and around the world."
DePencier said she hopes that with the message behind World Vision's pop-up store people will consider giving one of their gifts that help people live.