7 Unexpected Reactions to the Tragic Violence in Charlottesville
Confederate Statue Torn Down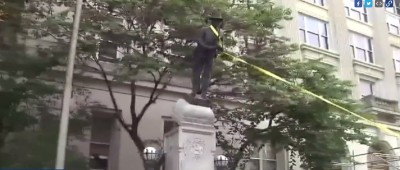 A group of activists marched on a former courthouse in Durham, North Carolina, on Aug. 14 and toppled a 93-year-old bronze statue of a Confederate soldier in front of police officers, a video of which went viral on social media.
Authorities later arrested students who were involved in the statue's destruction and are investigating it as a crime of vandalism, the Los Angeles Times reports.
 "As the custodian of the courthouse, the safety and security of visitors and employees will remain a top priority for the Sheriff's Office. We have taken steps to ensure the daily operation of the courthouse can proceed without disruption" Sheriff Mike Andrews said last week, as reported by WRAL. "I expect participants in the planned rally to obtain a permit and engage in a peaceful demonstration. My agency will continue to maintain the safety and security of the building."
According to the Daily Caller, the mastermind behind the toppling of the statue was North Carolina Central University student Taqiyah Thompson, a member of the Marxist group Workers World Party.