The Christian Post's Top 10 News Stories of 2017
8. ISIS and Christian Persecution Worldwide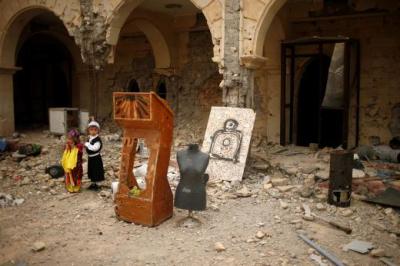 One of the Trump administration's biggest achievements this year was the defeat of the Islamic State terror group in Iraq and seizing the de facto capital of its self-declared caliphate in Raqqa, Syria.
On Dec. 9, Iraqi Prime Minister Haider al-Abadi declared that the country is now "fully liberated" from IS after three years of battles to regain control over one-third of the county that had been under the terrorist group's oppressive rule, including Mosul, its second-largest city. Iraqi troops also took back control of the Iraqi-Syrian border, with the help of U.S.-led coalition forces.
Since 2014, it's believed that over 40,000 people from more than 110 countries traveled to Iraq and Syria to join IS' caliphate. In the U.K. it was estimated that more British Muslims were fighting for IS than served in its armed forces.
Although U.S.-led troops killed tens of thousands of jihadis, insurgents still remain in parts of the country and IS terror cells are operating worldwide. British intelligence officers said earlier this year that the U.K. is home to 23,000 jihadist extremists who are potential attackers.
It's estimated that 5,600 people who joined IS have returned to their home nations, according to the Soufan Group, which provides strategic security intelligence services to governments and multinational organizations. Among the 129 who left the U.S. to fight for IS, seven are known to have returned.
Earlier this month, IS supporters released propaganda material threatening to launch a terror attack in Washington, D.C. and New York on Christmas, according to the SITE intelligence group. Already this year there have been two IS-inspired terror attacks committed in New York City. And during the last three years since IS declared its caliphate, there have been seven terror attacks in the U.S., leading to 82 deaths.
IS affiliates have also carried out attacks in the Philippines and Egypt.
In the Philippines, dozens of Christian civilians were killed on the island of Mindanao during six months of fighting between the country's military and IS-affiliated militants. In the city of Marawi, 200 people, many of them Christian, were taken hostage by the militants.
According to a detailed report by Amnesty International, "The Battle of Marawi: Death and Destruction in the Philippines," the majority of the civilian victims were Christians who were targeted by the militants.
In Egypt, over 40 Christians were killed in two church bombings in Alexandria and Tanta on Palm Sunday. And over 100 Coptic Christian families fled North Sinai amid fears of being hunted down by armed groups after it became known that people named on an IS kill list were being murdered.
Last month, for the first time ever, a delegation of evangelical leaders from the U.S. met with Egypt's President Abdel Fattah el-Sisi in Cairo to talk about the persecution of Egyptian Christians by Islamic extremists.
Although Egypt ranks as the 21st worst nation in the world when it comes to Christian persecution, according to Open Doors USA's 2017 World Watch List, many believe circumstances are improving for Christians under Sisi, who took office in 2014, versus the persecution endured under the Muslim Brotherhood.
In Iraq, while many returning Christians have said they fear a "Shiafication" in the region, they're also celebrating the reconsecration of St. George's Church in Telskuf, the first church to be reopened in the Nineveh Plains since the IS was driven out of the country. According to the Catholic charity Aid to the Church in Need, nearly 6,330 families that fled in 2014 have returned to the Nineveh Plains.
Christians in the region will also be receiving more support from the U.S. government. In October, Vice President Mike Pence announced that Trump ordered the State Department to enable U.S. aid funding to go directly to faith-based organizations actively supporting Christians and other religious minorities displaced by IS. Previously, all U.S. humanitarian and reconstruction aid funding for Iraq was funneled through the U.N., and wasn't being used to help religious minorities to rebuild their communities.
In December, Pence met with a leading Chaldean Archbishop to discuss how the U.S. can best help the recovering Iraqi Christians in the aftermath of IS. He also met with a 12-year-old Iraqi Christian boy whose home was destroyed by IS. The boy, named Noeh, gave Pence some of his only remaining toys — marbles — that were found in his burned out home.
At the beginning of the year, the U.K.-based group Release International published its annual Persecution Trends report which noted that apart from the rise of brutalities against Christians in the Middle East, there's reason to worry about the safety of Christians in other countries, such as India, China and Nigeria. Similarly, Aid to the Church in Need released its report, "Persecuted and Forgotten? 2015–17," which found that the persecution of Christians is now "worse than at any time in history."
Chinese Christians endured many hardships this year, among them being the detention of 13 worshipers who were attending Sunday service at a small house church that was raided by police; the torture of a pastor sentenced to 12 years in prison; and seven-year prison sentences being handed down to people who were in possession of Christian devotionals.
In India last Friday, 30 seminary students and two priests were arrested for singing Christmas carols, a tradition that has been going on for the last 30 years. Earlier this year, the U.S.-based Christian child sponsorship organization Compassion International was forced to shut down operations amid an ongoing crackdown by the country's Hindu nationalist government on nonprofits that receive foreign funds. You can read more examples here, here, and here.
The Christian Post reported on Sunday that Islamic Fulani herdsmen in northeastern Nigeria, who have been accused of aligning with the Boko Haram terror group, killed more than 100 Christians earlier this month, with the suspected help of the military. You can read more about the attacks against Christians in Nigeria here, here and here.
In Nepal, Christians leaders there are urging the government to strike down a law signed by President Bidhya Devi Bhandari that makes evangelism and religious conversions a crime. Before the bill banning evangelism was signed into law, four Nepali Christians were sentenced to prison on charges of "violence and witchcraft" for praying with a mentally ill woman; they were released after serving nine months.
Along with facing persecution for sharing their faith in the Hindu-majority nation, Christians are also being barred from burying their dead. There have been reported cases in which the remains of deceased Christians have been dug up from graveyards and dumped at the homes of their relatives, or left out on the streets. Christians are then forced to take the bodies to nearby forests at night, but there are legal consequences if they are caught.
In Turkey, 50 properties belonging to the Syriac Orthodox Church in one of the world's oldest Christian communities were seized by the government, which claimed that the deeds to the properties were no longer valid. And October marked one year that American Pastor Andrew Brunson has been imprisoned on false charges of attempting to overthrow the government.
Brunson served the Turkish people for over 23 years as pastor of the Izmir Resurrection Church. In October 2016, he was summoned by Turkish authorities to the local police station, only to be arrested as a "national security risk" and thrown in jail.
President Recep Tayyip Erdogan is believed to be holding Brunson hostage in an attempt to get the U.S. to hand over Fethullah Gülen, and Islamic imam whom Erdogan blames for last year's attempted coup in the country.